up until now, i think this whole wedding planning thing has gone pretty well..as far as knowing what i want is concerned. but when it comes to shoes...
i'm
totally beside myself with indecision. so i turn to you blog world, in hopes of some kind of direction...
first, let's recap:
my dress in ivory with white lace. there is a thin belt of taupe and ivory ribbon accented by a pearl, and silver brooch. the taupe matches my
fh's
suit perfectly. my girls are wearing a color called "oyster"..it's a beautiful dreamy shade of gray..
because the dress is tea length, i really do want to find the perfect pair of shoes (well, without breaking the bank..anymore than i already have)..at first, i fell in love with these beautiful j crew shoes:
but now i realize...no ivory shoes! i just can't see myself ever wearing these again...beautiful as they may be. also, i don't want to worry about how dirty they are going to get (trust me...if there is a mud puddle on the way to the ceremony, my clumsy little feet would find it...).
then, i thought...i want yellow! but seriously...have you looked for a mustard or marigold color of a shoe? they are practically non-existent or just plain ugly...although this D&G shoe might have made the cut if it weren't for the stupid black trim...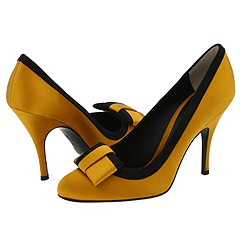 and
i'm
not so sure about the yellow anyway..it wouldn't match the girls nor my honey...which could work out since here is the ultimate dilemma:
do i match the girls with wearing silver shoes....or do i match my honey in taupe?
i like these. the heel is a perfect height..the shoe isn't too shiny..but not super crazy about the bow thing...would rather have a rosette or something...i think?
love the color...would match the boys and my ribbon beautifully, also totally in love with the rosette...but is it a bit too chunky??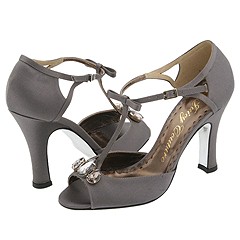 I kind of really like these. they look like professional dancing shoes...and the heel looks super sturdy, plus the little jewels would match my dress...but again..is the heel a bit too chunky for an outdoor garden wedding?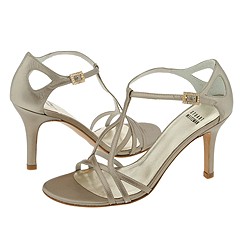 these seem very elegant..but
i'm
afraid i wouldn't be able to stay in them for very long...also, i need something a little more than a few straps...my ankles are very week and they look like they might hurt around my toes...
anyone else having trouble finding the perfect shoe without spending a ton? any more suggestions??