knowing we will have about 150 people attend the reception..choosing wine has been a rather .. delicate matter. we both love our wines. we would really like to share our favorites with the ones we love..but let's face it... that can get expensive.
looking back..i remember the first red wine i first truly appreciated..a
pinot
noir
made by toad hollow. ever since..
i've
been a die hard fan. so, naturally when we visit wine country, we like to stop off in
healdsburg
at
their tasting room
. the wines are easy to drink, easy on the wallet..and easy on the eyes..meaning that the labels have a lot of character...
lucky for us,
ryan's
uncle is a wine distributor in
nashville
and has worked hard to get us a good price on our pics and is delivering them for us..thanks uncle bill!
and without further ado..our wine pics: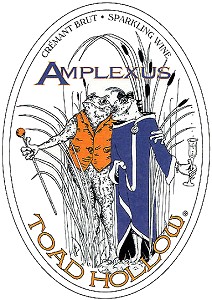 you can find tasting notes and other information on
their website
..now..on to the beer...